Tim O'Brien is a professional artist, author, print-maker and tutor.
"During my 38 year art career I have enjoyed working with a broad range of subject matter, having started out as an illustrator in the world of advertising and marketing and now combine this with the world of fine art.
The subject matter I have really enjoyed the most is collaborating on projects with the UK Armed Forces. Through this work I have been invited to join the military in the field, spending several days at sea with the Royal Navy on board HMS Illustrious and Ocean and flying in a range of aircraft from the Sea King helicopter, VC10 and Tristar tankers through to historic aircraft such as the BBMF's Dakota and Lancaster making mental observations, sketches and taking photos for use back in the studio.
However, what is more dear to me is the cherished memories of meeting military veterans such as; Bill Reid VC, John Cruickshank VC and Ken Wallis. Chatting with actor Sir John Mills at the Mansion House when I was 18, having tea with actor Richard Todd at his home and being drawn by cartoonist Terence 'Larry' Parkes who is fondly remembered for his Carry-On film titles.
I have also been very fortunate to have received some awards for my art; the first recognition was in 1980 at the age of 10 from the 'National Children's Book Week' competition where I designed a book-making machine that was judged by ex-Goon, Harry Secombe who awarded it first place in its category. The second occasion happened nine years later when I received an award from HRH Prince Andrew in the 'Youth-in-the-Air' competition for a series of illustrated articles in the Air Cadet newspaper.
Paintings have been exhibited at The Mall Galleries in London and at other galleries such as Patchings Farm Art Centre and Long Acre Studios in Nottinghamshire. For my first solo exhibition, I was invited to display my work at the Royal Air Force Club in 2015, which turned out to be a commercially successful show. This resulted in me being admitted as an Affiliate Member of the RAF Club as an acknowledgment of my contribution to the world of aviation art.
Painting and drawing has always been a passion from an early age, having grown up in a creative family, it wasn't until I was 8 years old that I started drawing more seriously, initially copying comic book illustrations before selling my first painting at the age of 13. Upon leaving school at 16, I worked with my father who took me on as his 'apprentice', training me into the family commercial art business by producing all aspects of illustration for advertising and print before I went freelance in late 1991."
Tim is married with two children and enjoys rambling, helping out on the family allotment, studying history and collecting old cinema posters. He also gets involved with projects within his local community.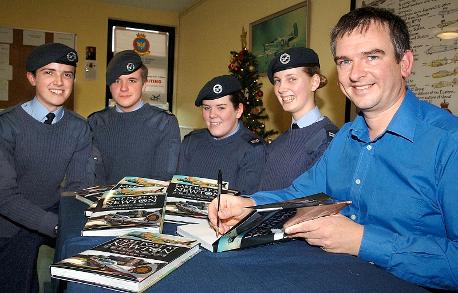 ABOVE: Tim with air cadets from 1936 (Newton) Sqn, signing books during the launch of his book Last Post at Newton in December2008. Photo: Newark Advertiser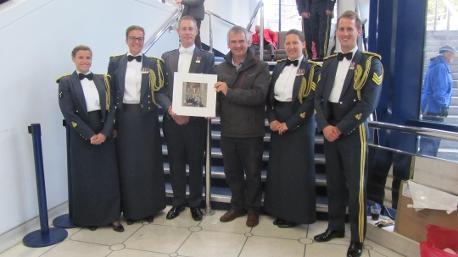 ABOVE: Tim with the Royal Air Force Salon Orchestra at Nottingham's Royal Concert Hall, presenting a print of the painting they are featured in called Matriculation Ceremony - the original hangs in the Royal Air Force Club, London.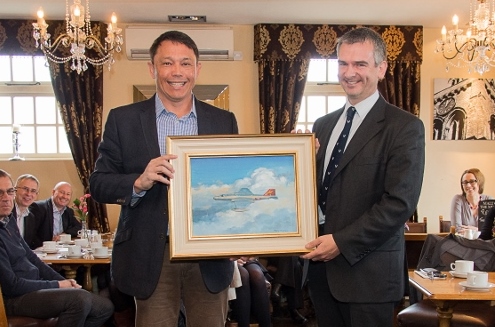 ABOVE: Tim presenting former RAF pilot and English Rugby Union player, Rory Underwood MBE DL with a painting of his 'Warthog' Canberra at the Bingham Business Club.