How to commission an original work of art.
By commissioning an original piece of art, direct from the artist, you will become part of an exciting process that carries on a centuries old tradition of purchasing artwork that is created specially for you; plus you will have the satisfaction of knowing that you have supported an individual working in the creative arts.
In the first instance, you are very welcome to contact me to informally discuss how the process works with an initial no-obligation conversation. Then if you would like to proceed, a price/deposit will be agreed and preliminary sketches produced. Once you are happy with the composition the process will proceed to the final artwork stage.
To give you an idea of how much an original piece of art costs, pencil drawings start from £75, small colour paintings in watercolour or oil start from £200, medium sized works start from £400, through to larger paintings starting in the region of £1000. At the end of the day, it all depends upon thesize, content, time involved, style of frame and delivery.
So whether you are looking for a pet portrait or sporting topic for that special occasion or a military or commercial client looking for some art for a presentation ceremony or to decorate your office or headquarters interior, I look forward to hearing from you.
Subject matter includes:
Aviation
Motoring
Maritime
Landscapes
Animals
People
Sport
Architecture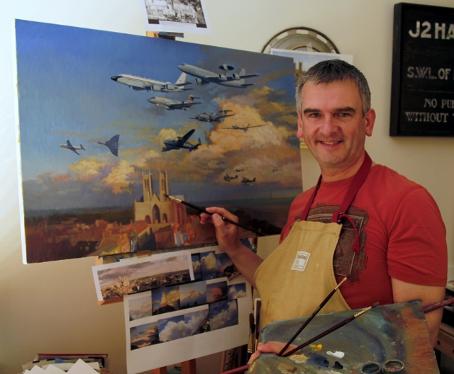 NEWS
Tim has recently completed a large, prestigious commission from the Royal Air Force Club, to provide them with 25 original paintings for their main dining-room that overlooks Green Park, London.