The art of Tim O'Brien GAvA.
ARTIST & AUTHOR
Welcome to the art of Tim O'Brien GAvA where you will find a mix of contemporary and traditional art to creatively enhance your home or office interior. Tim helps both interior designers and architects create a bespoke art collection for their clients as well as accepting commissions from private individuals, military associations, merchandising and publishing companies.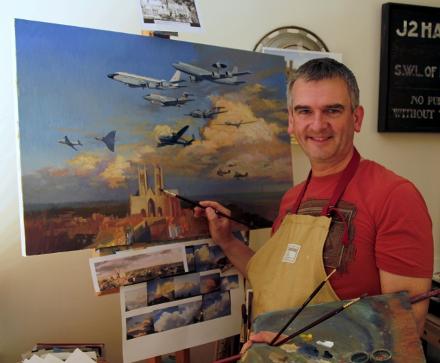 ABOVE: Tim working on a commission from RAF Waddington to celebrate their Centenary in 2016. Photo credit: Max Shortley.
Tim is currently working on a large, prestigious commission to provide 25 specially-created oil paintings for the Royal Air Force Club, Piccadilly, London. The paintings have been designed to complement the recently refurbished dining-room that overlooks Green Park as part of their Centenary celebrations in 2018.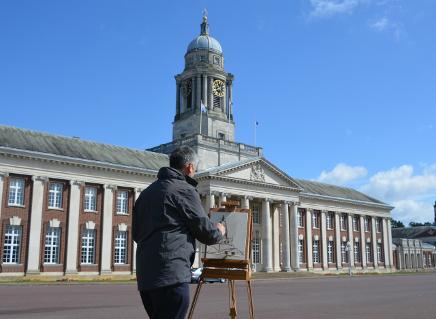 One of the first tasks was to was paint outdoors in front of College Hall, RAFC Cranwell to produce a small scale 'pochade' oil sketch for a much larger painting set in the early/mid 1970s with a Jet Provost formation overhead.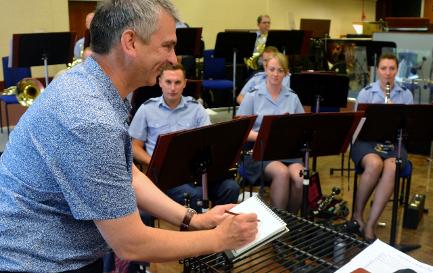 The second task while at Cranwell was to collaborate with 'The Band of the RAF College' who are thrilled be part of this exciting new art project. Tim O'Brien GAvA was their guest for a couple of days, sketching preparatory pencil drawings during rehearsal sessions at Cranwell before seeing one of their public performances at Newark Palace Theatre.
The final paintings will be revealed soon.