MAGAZINE ILLUSTRATION
"I can thank the Air Training Corps for helping to launch this aspect of my career. In December 1983 I was asked to produce a pen drawing for the Wing newsletter by the late Wg Cdr R Reid-Buckle; so I created an image of Santa Claus in a Chipmunk strapped to the Space Shuttle. Five years later, the Air Cadets facilitated another publishing opportunity for me when I submitted six articles to the 'Air Cadet News' depicting famous pilots. The series developed and proved to be valuable experience many years later when I worked on the long-running 'Hairy Moment' series in Aeroplane."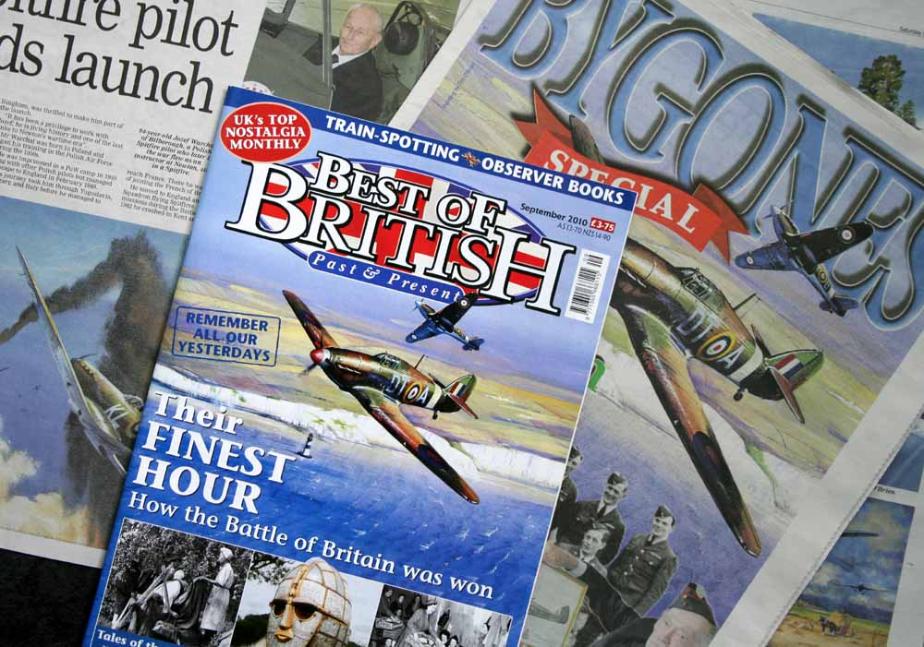 Air Cadet News
"My first real break into the world of journalism came in 1988 when an opportunity arose for me to submit a series of articles about famous pilots, which then developed into other features looking at other topics."
Aeroplane Monthly
"My first illustration for Aeroplane was published in September 2000 thanks to the editor Michael Oakey who invited me on board as a contributor. It was a privilege to be carrying on a tradition of providing bespoke artwork started by fellow artists such as Roy Cross, Keith Woodcock and the late Ken Aitken.
After supplying colour paintings to accompany features where archive photographs were scarce, I eventually started submitting some of my own stories accompanied by paintings and drawings. The editorial crew took a shine to my retro style pen drawings, reminiscent of Roy Cross' early work and these started filtering into features, ultimately becoming regular monthly work with the 'Hairy Moment' stories in 2010. Having produced 40+ 'Hairy Mo' drawings during the next four years the series came to an end in October 2014 with the sale of the magazine to a rival publishing house. As the magazine moved in a new direction with a different team at the helm, it was time for me to move on after my fourteen year association; however I am pleased to have been part of Aeroplane's story. Roy Cross, who at 91 is still painting, noticed my absence and sent me a nice letter explaining that he had a similar experience in the 1960s when we was supplying regular covers for SWIFT and EAGLE."
The Hairy Moment series - 'Aeroplane'
Air Forces Monthly
"After publishing my tribute to JFH in December 2010, editor Gary Parsons saw an opportunity to add another dimension to what was a highly photographic, specialist magazine. He suggested an idea for an occasional back page article on a 'What-If' alternative history theme and the short-lived 'Future War in Art' series was born. Even though the topic may not have appealed to everyone, the tongue in cheek storylines didn't go un-noticed within the military as I gather the F-18 story caused a rye smile within the Admiralty; and for me, that was the perfect compliment. It was also an interesting exercise to see if anything would ever come true. So when the UK announced the purchase of nine P-8 Poseidon aircraft in November 2015, I felt satisfied that the series had been worthwhile."
Flypast
"Not long after my work had started to be published in Air Forces Monthly, Nigel Price, the editor of Flypast invited me to illustrate a small number of articles"
Aircraft Illustrated - 'Captain Plummet'
"Between September 2002 and January 2008, I enjoyed a good-run with the much-missed Aircraft Illustrated by supplying editor Alan Burney with 60+ humorous cartoons for the 'Captain Plummet' feature on the end page. I would draw several in advance and feed them into the system so the editorial crew could choose the most appropriate cartoon. In addition, there was the occasional bespoke cartoon for a festive issue, but eventually it was decided that the feature needed to end on a high; and that is the way it goes in publishing as nothing lasts forever."
Wingspan International
"Having met veteran aviation journalist Francois Prins through the Guild of Aviation Artists, he invited me to submit some work to Wingspan International in the early noughties. One feature focussed on 'the Yangtse Incident' and as a result of the article and a limited edition print, Francois arranged for me to meet him and actor Richard Todd at his home near Grantham - a very memorable afternoon!"